Mitsubishi
Delica L400

Workshop Repair Manual Download PDF

Mitsubishi Delica L400 Workshop Manual is the Official Mitsubishi Service Repair Information handbook. Containing clear, step by step instructions and accurate procedures, complete with all manufacturer specifications, technical information, wiring diagrams and comprehensive illustrations. Contains all operations to repair, service and maintain Mitsubishi Delica L400 including all the maintenance procedures, scheduled service information, tightening torques, operating fluids and wiring diagrams.

Models
Covers fourth generation models.

Engines
Petrol:
2.4 L 4G64 I4
Diesel:
2.5 L 4D56 TD

Transmissions:
Covers all transmissions.

Years
2007, 2006, 2005, 2004, 2003, 2002, 2001, 2000, 1999, 1998, 1997, 1996

Mitsubishi Delica L400 Workshop Repair And Service Manual Key Features:

Menu Driven Pages
Comprehensive Diagrams

Zoom-In Illustrations
Torque Specifications
Special Tooling Requirements
1000's of Photographs and Diagrams
Search via Model, Year, Gearbox Code, Engine Code.

Contents:

General Information, Fault Finding Diagnostics, Maintenance, Technical Diagnostics, Engine Mechanical, Engine Fuel & Emission Control, Fuel system & Exhaust, Engine Lubrication, Transmission, Clutch & Gearbox, Electrical System, Lights and Switch, Wheels & Tyres, Suspension, Body & Chassis, Interior Fittings, Ventilation System, Cooling System, Heater & Air Conditioning, Safety systems, Brake System, Steering System, Front & Rear Axle, Propeller Shaft & Differential, And much more…

Mitsubishi Delica L400 Workshop Repair Manual Download.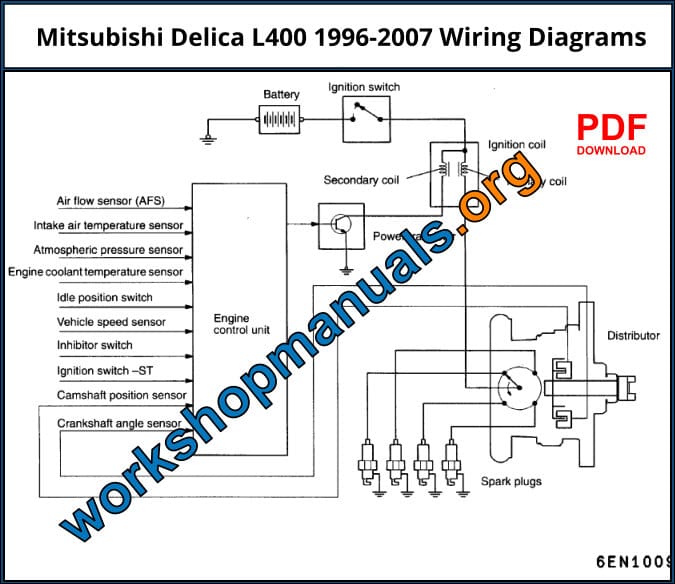 Instant Download