Official Jaguar XK X150 Workshop Manual is the complete Service Repair Manual containing accurate, clear, step by step instructions  and comprehensive illustrations. Including all manufacturer specifications and technical information: Maintenance Operations, Scheduled Service Information, Tightening Torques and Operating Fluids.
Models Covered: Jaguar XK X150/XKR
Engines:
Petrol
4.2L V8 DOHC
4.2L V8 DOHC SuperCharged
5.0l AJ-V8 Gen-III V8 DOHC VVT
5.0l 8-Cylinder V8 DOHC Petrol Engine
5.0l 8-Cylinder Supercharged V8 DOHC
Transmissions:
Automatic and Manual
Years:
2014, 2013, 2012, 2011, 2010, 2009, 2008, 2007, 2006
Left and right hand drive.
Jaguar XK X150 Workshop Repair Manual PDF Key Features:
Comprehensive Diagrams

Zoom-In Illustrations

Torque Specifications

Special Tooling Requirements

1000's of Photographs and Diagrams
Contents:
General Information, Engine Control, Fuel & Exhaust, Engine Fuel & Emission Control, Engine Lubrication, Engine Mechanical, Transmission, Brake System, Front & Rear Axle, Steering System, Clutch & Gearbox, Propeller Shaft & Differential, Cooling System, Electrical System, Heater & Air Conditioning, Ventilation System, Maintenance, Lights and Switch, Technical Diagnostics, Fault Finding Diagnostics, Fuel System, Suspension, Wheels & Tyres, Body & Chassis, Interior Fittings, Safety systems, And much more…
Jaguar XK X150 Workshop Repair Manual Download.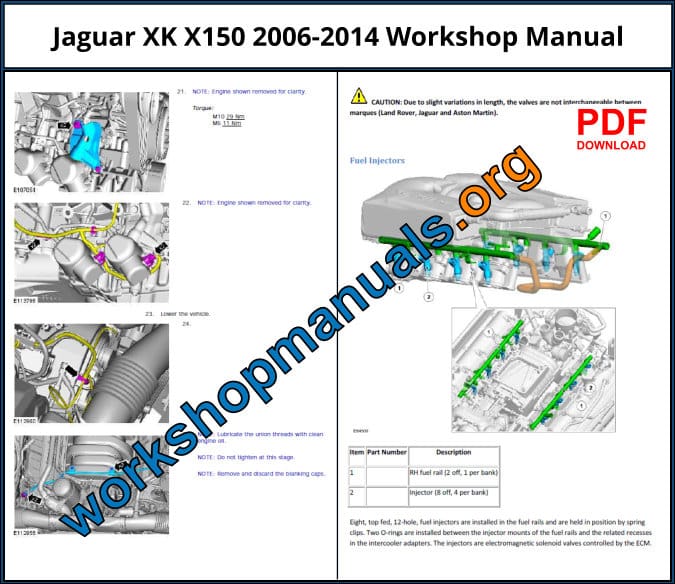 Instant Download