Daewoo Matiz Workshop Service Repair Manual Download
Factory Workshop Repair and Service Manual for Daewoo Matiz 1998-2006 containing comprehensive illustrations and wiring diagrams, accurate, clear, step by step instructions and procedures, with all technical information and manufacturer specifications. Including all maintenance operations, tightening torques, scheduled service information, operating fluids and wiring diagrams. Contains all procedures to maintain, service or repair Daewoo Matiz.
Model:
Daewoo Matiz first generation M100 M150
Engines:
Petrol
0.8 L
1.0 L
Transmission:
5 speed manual
3 speed automatic
Years: 2006, 2005, 2004, 2003, 2001, 2000, 1999, 1998
Language: English
Left and right hand drive
Daewoo Matiz Workshop Repair And Service Manual Key Features:
Comprehensive Diagrams
Zoom-In Illustrations
Torque Specifications
Special Tooling Requirements
Menu Driven Pages
1000's of Photographs and Diagrams
Sections Include:
General information, description and specifications, manufacturing data, products, tightening torques, special tools, Engine, Suspension and Wheels, Auxiliary units, Electrical Equipment, Fittings, Maintenance, Clutch & Gearbox, Brakes, Axle, Steering, Suspension and Wheels, Auxiliary units, Electrical equipment, Fittings, Panels and Frame.
Electrical equipment: Electrical functions, Wiring Diagrams and Location, Connectors
Electrical System, Checking Procedures, Service, Power Steering, Technical Drawings, Body Repair, Panels, Windows, Doors, Fixture & Fittings, Security, Alarm System, Air Bags, Adjustment Data, Diagnostics, Seat Belt, Exhaust, Battery, Wheels, Tyres, Electronics, Lights, Interior and Exterior, Fuses and Relays, Engine, Transmission, Clutch, Hydraulic, Suspension, Brakes, ABS, Timing Belt and Chain Removal & Installation, Cooling system, Air Conditioning & Heating, Lubrication System, Fluids.
Daewoo Matiz Workshop Repair And Service Manual Download.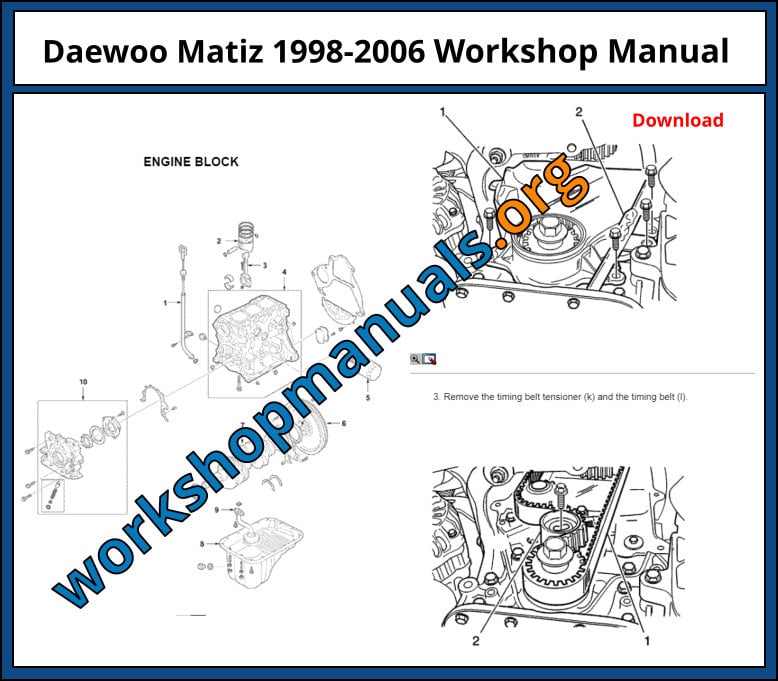 Instant Download