Bentley Continental Series IETIS 2004-2010 Workshop Repair Manual
The complete workshop repair service manual for Bentley Continental GT, GTC & Flying Spur vehicles.This workshop repair manual contains detailed illustrations, diagrams, wiring diagrams and specifications as well as step-by-step instructions and procedures, with all manufacturer specifications and technical information. Including all the scheduled service information, Maintenance Operations, Wiring Diagrams, Tightening Torques, operating fluids. Contains all procedures to maintain, service or repair Bentley Continental GT, GTC & Flying Spur vehicles
Models covered:
Bentley Continental GT – 2004 to 2010
Bentley Continental Flying Spur – 2005 to 2010
Bentley Continental GTC – 2007 to 2010
Bentley Continental GT Diamond Series – 2007
Bentley Continental GT Speed – 2008 to 2010
Bentley Continental Flying Spur Speed – 2009 to 2010
Bentley Continental GTC Speed – 2009 to 2010
Bentley Continental Super Sports – 2010
Bentley Continental GT Speed Srs 51 – 2010
Bentley Continental GT Srs 51 – 2010
Bentley Continental GTC Speed Srs – 51 2010
Bentley Continental GTC Srs 51 – 2010
Engines & Transmissions Covered:
The IETIS covers all engines and transmissions for Bentley Continental GT, GTC & Flying Spur vehicles.
Years Covered:
2010, 2009, 2008,. 2007, 2006, 2005, 2004
Left and right hand drive.
Bentley Continental Workshop Repair And Service Manual Key Features:
Illustrated Parts Catalogue
Workshop Information
Theory of Operation
Electrical Circuit information
Service Schedule
Workshop Tools
Consumables
Defect codes, Repair Codes and MHS times.
Sections Include:
Wiring Diagrams, Fuses and Relays, Engine, Transmission, Clutch, Hydraulic, Suspension, Brakes, ABS, Timing Belt and Chain Removal & Installation, Adjustment Data, Diagnostics, Turbo, Cooling, Air Conditioning, Lubrication System, Fluids, Electrical System, Electronics, Lights, Interior and Exterior, Checking Procedures, Service, Power Steering, Technical Drawings, Body Repair, Panels, Windows, Doors, Fixture & Fittings, Security, Alarm System, Air Bags, Seat Belt, Exhaust, Battery, Wheels, Tyres, and more
Bentley Continental Series IETIS Workshop Repair Manual Download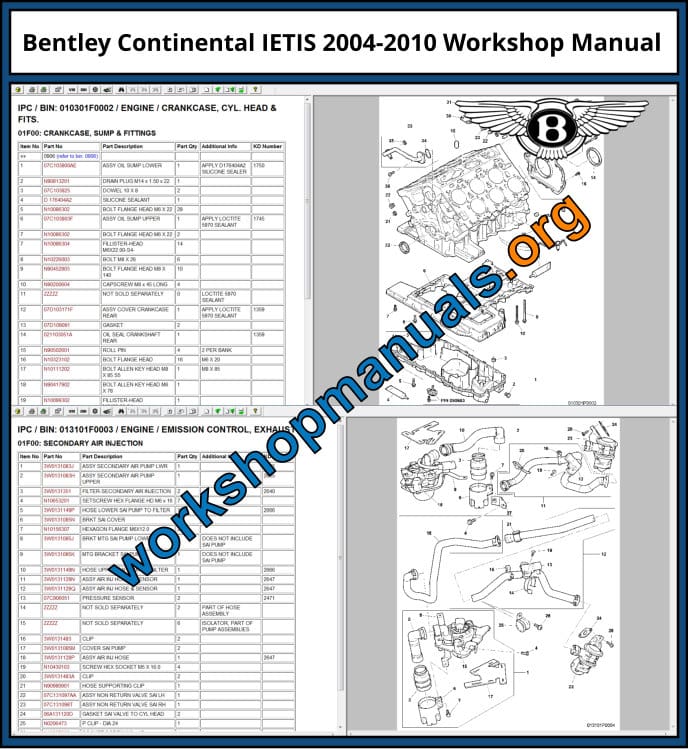 Instant Download