Bentley Continental Series GT, Diamond Series, GTC & Flying Spur Workshop Manual 2004-2009
The Bentley Continental GT is a grandeur tourer manufactured and marketed by British automaker Bentley Motors since 2003. Bentley's first car was the first car under the Volkswagen creative AG management after its achievements in 1998 and the first Bentley ever to employ mass production manufacturing techniques.
The vehicle was first launched in 2003 at the Geneva Motor Show, followed by Le Mans, Festival of Speed in 2003 at Goodwood, and the 2003 annual Bentley Drivers Club meeting at Silverstone. The car varies from the previous Continental R & T models one in terms of its concept. Although much of the vehicle is hand-assembled, it is a mass-produced car made in vast numbers and widely spread. It is not a coach-built car at all. The price at launch was fewer than half the Continental R price, giving the vehicle a broader customer base.
Official Repair and Service information for the following Bentley and Rolls Royce vehicles
Models:
Continental GT
Continental Flying Spur
Continental GTC
Continental GT Diamond Series
Continental Flying Spur Speed
Engines & Transmissions Covered:
The IETIS covers all engines and transmissions for Bentley Continental GT, GTC & Flying Spur vehicles.
Years Covered:
2009. 2008, 2007, 2006, 2005, 2004
Left and right hand drive.
Bentley Continental Workshop Repair And Service Manual Key Features:
Illustrated Parts Catalogue
Workshop Information
Theory of Operation
Electrical Circuit information
Service Schedule
Workshop Tools
Consumables
Defect codes, Repair Codes and MHS times.
Sections Include:
Wiring Diagrams, Fuses and Relays, Engine, Transmission, Clutch, Hydraulic, Suspension, Brakes, ABS, Timing Belt and Chain Removal & Installation, Adjustment Data, Diagnostics, Turbo, Cooling, Air Conditioning, Lubrication System, Fluids, Electrical System, Electronics, Lights, Interior and Exterior, Checking Procedures, Service, Power Steering, Technical Drawings, Body Repair, Panels, Windows, Doors, Fixture & Fittings, Security, Alarm System, Air Bags, Seat Belt, Exhaust, Battery, Wheels, Tyres, and more
Bentley Continental Series IETIS Workshop Repair Manual  Download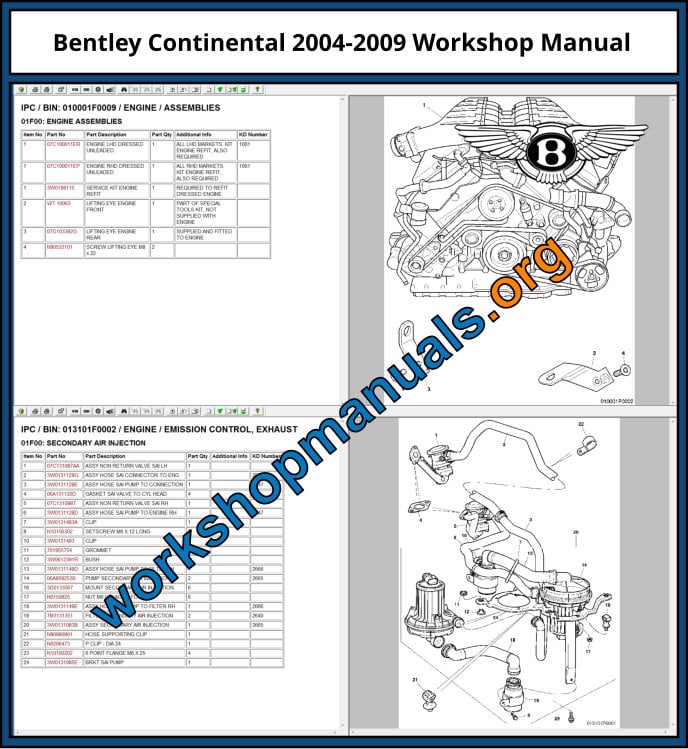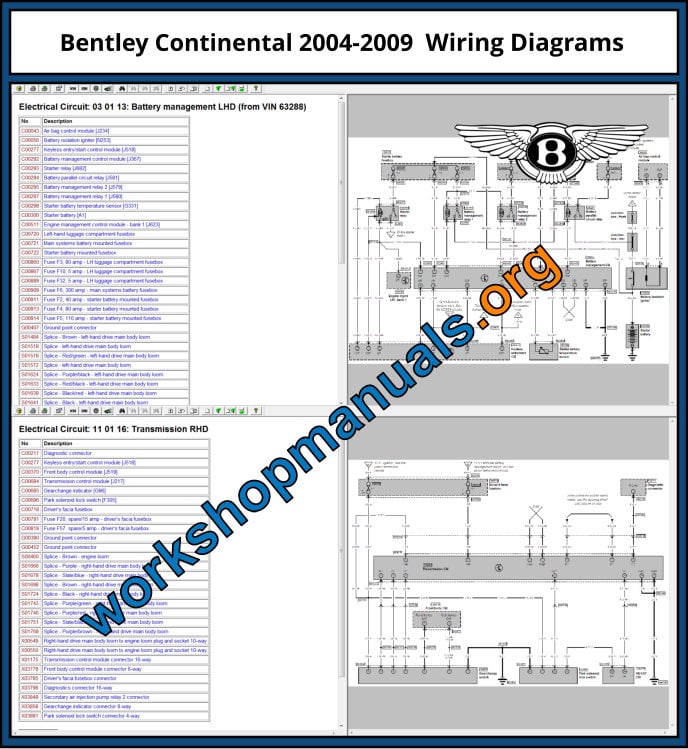 Instant Download